14.02.2020
*Updating information
Our exhibition at E-world 2020 have ended successively with increasing number of guests. Thank you for all of those who have visited our booth, and we wish to meet you next year.
Energy Agency. FUKUSHIMA and Fukushima Prefectural Government are taking part in "E-world energy & water 2020" at Messe Essen in Germany, co-exhibiting with five local companies. Please come and check what we can offer; there are also staffs and interpreters who are more than happy to assist every guest.
Time and Date
Day 1: 9am – 6pm, Tuesday, 11th February
Day 2: 9am – 6pm, Wednesday, 12th February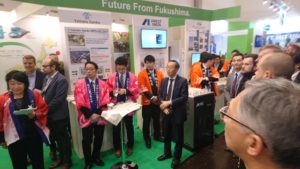 Day 3: 9am – 5pm, Thursday, 13th February
Booth Location
Stand 3-167, Hall 3
Please check the links below for more information.
There would be Booth Reception on Wednesday, 12th February, from 12:00 to 13:00 p.m. Sake from Fukushima would be served.
Fukushima delegation took parts in Smart Tech Forum on 12th Feb. 2020, bellow would be presentation materials. (updated on 14th Feb.)
1. Milestones: The success story of the regional cooperation between the state North Rhine-Westphalia and the prefecture Fukushima implemented by the EnergieAgentur.NRW and EnergyAgency. FUKUSHIMA (EnergyAgency.NRW)
2. Fukushima Prefecture
3. Overview of the Initiative for Renewable Energy Industry in Fukushima (EnergyAgency.Fukushima)
4. Research and Development for Energy Management System using AI chip (Aizu CSL)
5. Power of FORTELIONTM for Stable Energy (Tohoku Murata Co., Ltd)