Foreign Market Development and Market Access Programs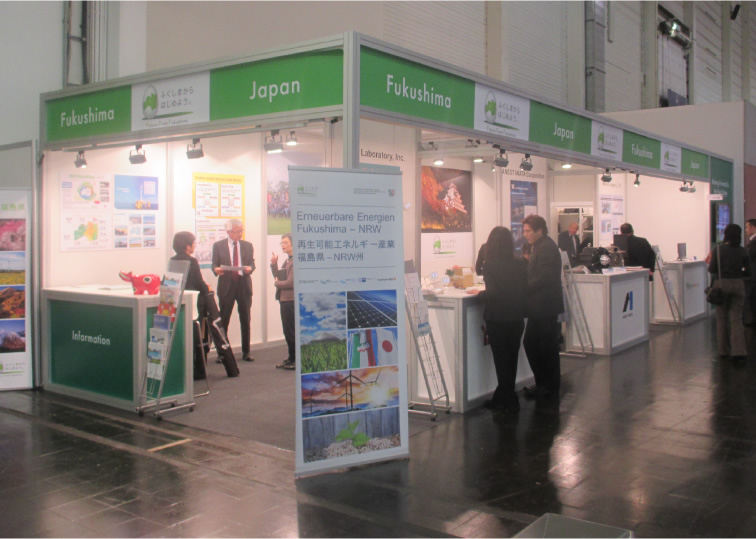 We continue to help the local enterprises to collaborate globally starting from Germany's North Rhine – Westphalia State (hereinafter referred to as NRW State, Germany).
We will support matching between local companies and overseas companies by inviting overseas companies to "REIF Fukushima" and individual matching. Particularly in collaboration with the NRW state in Germany, we promote the entries of each other's regional market. In addition, we, local enterprises will participate as a group in the exhibition to be held in Germany.
An actual example
E-world energy & water
We are planning to participate the largest energy trade fair in Europe as a group
News
Interview
Chief CoordinatorTakao Kakizaki
Fukushima Renewable Energy Research Association, Energy Network,
GSHP (Grand Source Heat Pump), Overseas renewable energy in general
Field of expertise
Ph.D. in Engineering, Information Technology Services,
FEMS (Factory Energy Management System), Modeling of Mechanical Systems
Mechanical Engineering, System Dynamics, Renewable Energy System
Reducing the barrier factors for local small and medium enterprises, we aim for low-risk overseas transactions using the network.
Chief CoordinatorTakao Kakizaki
What kind of support do you have for overseas advancements?
We are providing supports to companies intending to advance overseas or companies trying to implement superior systems from overseas. We are giving advice to companies looking for partners based on our collaborative researches, business matching and overseas networks.
What are some actual examples of those supports?
Fukushima Prefecture has been promoting economic collaborations with the German NRW State, a frontrunner in the renewable energy field since February 2014. On one hand, Energy Agency Fukushima invites German companies to renewable energy exhibition "REIF Fukushima", on the other, we support local businesses to participate the "E – World Energy & Water Exhibition ".
Also, under the adoption of the interregional exchange support, "RIT project" by Japan External Trade Organization "JETRO", we became able to support both sides' expansions of sales channels.
What are some examples that you have already assisted?
We assisted the introduction of compact wood biomass gasification thermal power co-generation system to Fukushima prefecture (first in Japan). We also invited German companies to "REIF Fukushima" and supported the local companies at the "E-world energy & water" exhibition.